Bennett Brook Railway preserves and operates a large collection of ex- West Australian government and privately-owned railway and tramway equipment and structures. This section is presently under construction, and will be expanded frequently.
The BBR has a diverse range of rolling stock, comprised of Passenger Coaches, Freight Wagons, Industrial Skips & Hoppers and Permanent Way Equipment. 
These vehicles have been acquired, modified or custom-built by the railway over the last 30 years. All wagons are ex-WAGR (3'6″ gauge, re-gauged to 2ft) unless otherwise specified.
This Section is currently under construction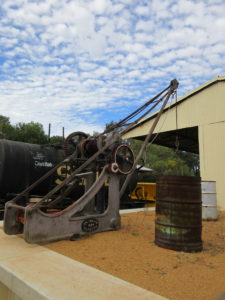 This crane was constructed by A & J Inglis of Glasgow. This company was formed in 1848 as an engineering works, and in 1863 turned to shipbuilding. The company went on to become one of the biggest shipbuilders on the Clyde before finally becoming defunct in 1963.
The crane has an approximate capacity of 1 ton. It was acquired by the WAPC ( Western Australian Planning Commission) sometime in the early 1980s. It was initially displayed in Whiteman Village, then passed on to BBR for restoration and inclusion with the Parkers Siding Goods Shed and Loading Dock at Mussel Pool.